Interested?
Here's some great ideas to get you started.
limitless
future!
Ready to get even more inpsired?
Let's find an iBlock Pathway that fits your specific needs.
Explore our pathways
Discover the iBlocks we've imagined and see how they align to relevant state standards. Have a specific standard, subject, or project in mind? Let us know! An iBlock can be customized for your interests, goals, and needs.
Choose an iBlock from our pathways list and receive a 10% discount on your purchase!
iBlock Pathways:
Assessing and Monitoring the Hudson River's Health
Better Transportation
Class Pet
Clean Water and Sanitation
Create a Model of an Eclipse
Creating a Video Game
Designing a Board Game
Engineer a Telescope
Engineering an Assistive Game Controller
Engineering for Hazardous Weather
Fashion for Function: Smart Wearables
Geometric Self-Watering Planter
Growing a Modern Garden
No Poverty and Zero Hunger
Olympic Field Day
Programming a Classification System
Robot Olympic Games
Robotic Amusement Park
Robotic Assembly Line
Rube Goldberg Machines
Space Systems: Light and Shadows
Storytelling Through the Ages
The Science of Music: Engineering 3D Printed Instruments
Tiny Houses
Assessing and Monitoring the Hudson River's Health

Description
Let's take some pictures of the Hudson River. Have your camera ready? What about your secchi disk and litmus paper? Taking pictures can mean a lot more than snapping an image, especially if you're a scientist. In this iBlock, students will conduct and engineer multiple analyses of the Hudson River's health to understand the relationships between the hydrosphere, atmosphere, geosphere, and biosphere over time.
Focus of the iBlock:
An iBlock provides a cross-curricular, holistic learning approach by structuring your learning content with a primary and secondary subject focus (see this in action below). But because iBlocks are also customizable and expandable, these foci can change to suit your school's needs, should you choose to tailor your iBlock.
Grade Band: Elementary
Primary Focus: Earth Systems
Secondary Focus: Engineering
Additional Foci: Advanced Literacy, Transferable Skills
An iBlock matches skills to standards (like Common Core or NGSS).
Here is a sample content standard for this iBlock:
Obtain and combine information about ways individual communities use science ideas to protect Earth's resources and environment. (5-ESS3-1)
Ready to get even more inspired?
Let's take a look at some of the top U.S. industries. These can be a great starting point for creating an iBlock that's relevant to your area — and your students.


Click on your state or browse by category to see some top industries and the iBlocks they've inspired.
Out-of-the-box STEM learning with Rube Goldberg Machines
We've teamed up with Rube Goldberg Inc. to create a series of special iBlocks!
Our Rube Goldberg Machine iBlocks scaffold the creation of your Rube Goldberg Machine in the classroom by providing the learning content, materials, training — and even the opportunity for schools to enter their inventions in the official Rube Goldberg Machine Contest!

As students build their contraption, they'll learn about teamwork, push through failures, and practice STEM hands-on.

Learn more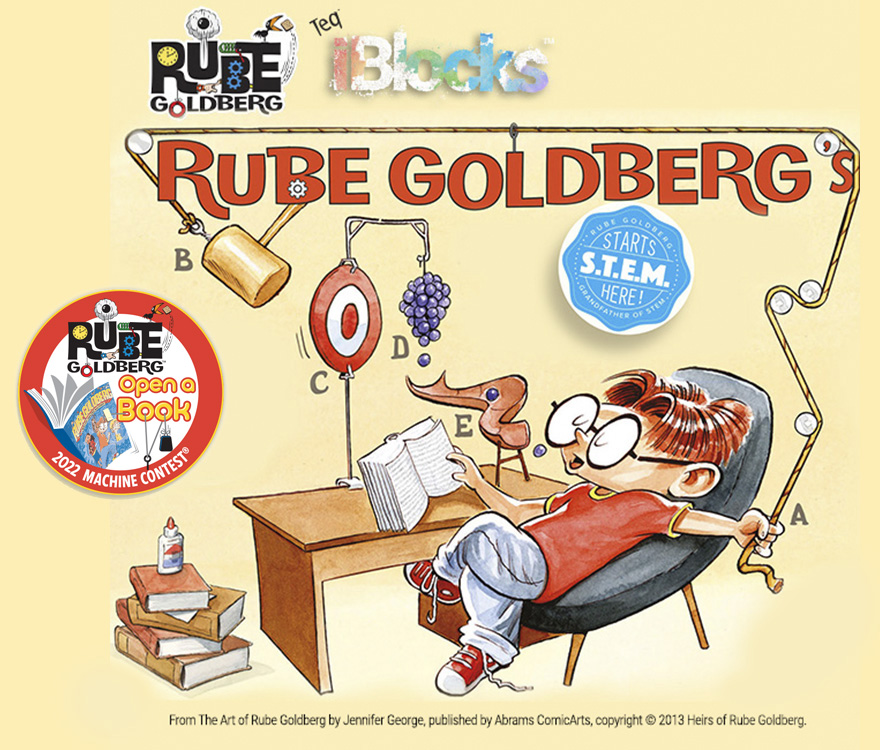 Want to see what it's all about?
In our sample Prosthetic Hand iBlock, students dive into STEM content as they experience the Engineering Design Process first-hand. Their work culminates in the creation of their own prosthetic hand that pulls together their research, guides them through the design process, and fosters important skills like critical thinking and problem-solving.